Laura White
"Life is like climbing a mountain . The higher you climb , the more difficult it gets . However , the view keeps getting better and better ." - Laura White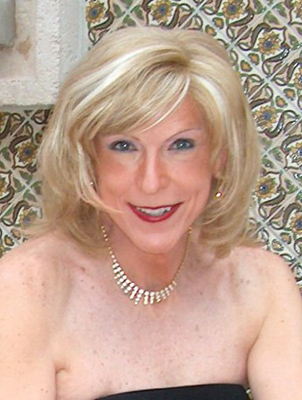 How out are you?
I go out every Friday and Saturday . My favorite places to go are The Capital Grill in the Upscale Galleria mall in Fort Lauderdale , The Hard Rock Casino Complex in Hollywood ,Florida , Las Olas Blvd in Down Town Fort Lauderdale , Lincoln Road Mall in Miami Beach and Mizner Park in West Palm Beach .
What are your passions?
My Passion for being the best Woman I can possibly be . I am constantly evolving my female self . This includes lots of exercising to maintain a very feminine toned body . I am constantly working on improving everything about my feminine self . From make up , to hair , to voice training , to just walking . I am constantly working on improving myself as a woman . Mainstreaming with the general public under every day situations is a real accomplishment .
Do you see yourself as a role-model?
I most definitely do . At the ripe young age of 73 , I have paid my dues . I fully understand the struggles TGs go through in their lives because I have been there . For younger TGs , look at me as someone way up ahead on life's journey . My message to everyone is : " Be Not Afraid " -Reach out to Girls like myself that have had the courage to accept the struggles head on and over come adversity . " Come Follow Me " .
Why did you join the Vanity Club?
I was fortunate that early on in my TG life , I met Jennifer Nelson in Detroit . She took me by my hand and for the first time ever, I ventured out into public as Laura with her . Years later , Jennifer reach out to me and asked me if I wanted to join VC . That was over 14 years ago . The friendships I have made are Priceless . VC is the Crown Jewel in the TG Jewelry BOX for the entire Globe .
How important are your Vanity Club Sisters?
I can't even put a price tag on the Value of my VC Sisters . During both Good Times as well as Bad Times , being able to reach out to my VC sisters for advise has really meant the World to me . So many of the VC Sisters have been an inspiration to me .