Tanya Simone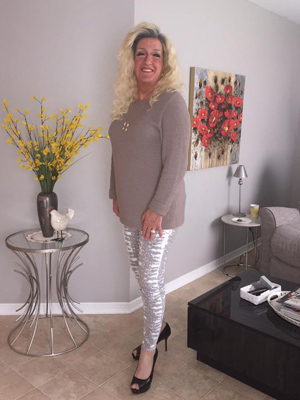 When did you realize that you're transgender?
I don't know if I am a transgender or if there is a correct label for me. I don't think that I have gender dysphoria but rather am I'm am in awe of and attracted to the feminine being, Including the form, the power, the life of elegance that a female enjoys. Like many, I did all the male things that a young male aspires to do...Sports, motorcycling, driving a semi, clawing my way up the corporate ladder holding executive positions in male-dominated high-stress, demanding jobs. But was only happy when I was able to step away from that and be Tanya.
Who inspires you?
I'm a vivacious, elegant T gurl residing in Montreal, the Paris of North America who enjoys fashion, elegance, and new friends. Montreal is a hub of fashion, of extremely besutiful women and is a unique combination of the flavors of Paris, Milan and New York alll rolled in to one. I am blessed to be able to enjoy this amazing world of ours with a wife who could grace any runway in the world. We live the best of both lives in this city that is alive with European influences of architecture and a hub of multi-cultural ethnicity. It's a treat! French and Italian designers inspire me. I adore lacey lingerie, the highest of heels, and sensual furs. I am a devotee of shoes, heels, and boots. Also, I am known to lean towards leather and latex or can just enjoy the shortest of skirts. My happiness is easily won, my friendship is more difficult. However, I am always looking for intelligent and interesting new acquaintances to fulfill my thirst for wonderful new experiences.
Why is living authentically important?
A very profound question. As an older member of this amazing sorority, I'd love to say that I can and do live authentically. However, other than my wife and members here, few if any of my friends grasp the importance of Tanya and who I truly am. It is a transformative experience that provides balance and joy in my life. It is therapy and bliss that comes second only to the love that I share with my amazing wife of 40 plus years! It is without question what makes me whole! I certainly wish that I were closer to befriend more of the wonderful sisters here and take a more active role but nevertheless I am a proud member of Vanity Club,
How did you hear about the Vanity Club?
Katrina Colins VC396 who has now passed intorduced me to this wonderful group and kindly shepherded me. What a wonderful, welcoming and charismatic person she was. I miss her deepely. We were able to speak often and we had great business plans that we were going to execute before her untimely passing. She was more than a kindred soul. In fact she was the true sister I never had. I was nothing less than crushed by her passing.
What does the Vanity Club mean to you?
I have had the immense pleasure of meeting some of you in person and sharing quality time. Each of you brings amazing qualities to this group. Although I can't be with you to share some of the great events, I am nevertheless so fortunate to be a small part of the larger success of this sorority. Having peers who share this life makes the journey more complete and I thank you for that.