Debbie Joy
"Smile and the world smiles with you." - Stanley Gordon West, Growing An Inch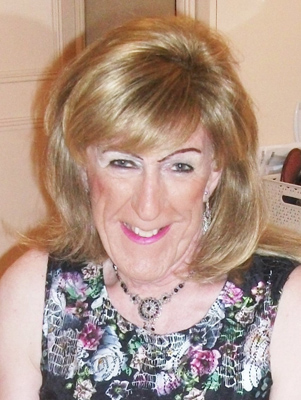 What advice would you give to someone beginning their journey?
Don't be afraid. Hold your head up, walk tall and don't forget to smile. A smile can disarm most people who frown on you. Wear clothes appropriate to your surroundings - unless you really do want to stand out ! Talk to as many other TGirls as you can. Hear their stories and you will learn that you are not alone !
Who inspires you?
Other TGirls that I have met. Most are beautiful on the outside and all are beautiful on the inside. Listen to their stories. Sometimes you will be surprised at how closely their life resembles yours.
How do you want to be remembered?
Somebody who made the world smile. Being nice to people. And just to be vain, the one with the gorgeous legs !
How did you hear about the Vanity Club?
I joined Vanity Club UK many years ago when I was out and about with other members around the UK. That led me on to the international VC where I have been a member for a long time. I just wish I was able to get out and about more.
What do you enjoy most about the Vanity Club?
Knowing that there are all these beautiful women out there setting brilliant examples for our community.