History
From all walks of life, we come together for the common purpose of sisterhood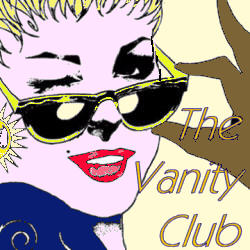 It may be difficult to understand the deep shadows of fear and insecurity transpeople lived with at one time. Many of us felt isolated and alone; as if we were the only ones who felt this way. The world was not very accepting--we lived in fear of being discovered and went to great lengths to hide our true selves. On rare occassions we would hear stories on television or catch glimpses of others who were kind of like us, but not exactly like us.
The Vanity Club was founded in 1996 with the advent of the internet--we finally had a way to connect with others like ourselves. As a pioneering, online organization, the original focus of the Vanity Club was to have members represent "the best of the best" of transwomen. Individuals were invited to join based upon their beauty both inside and out. Members were encouraged to share pictures and stories with each other via email and offer support and guidance in refining their image. The first 25 members of the Vanity Club are called the 'Originals', some of whom are still active within the organization today.
As social acceptance increased and the online sisterhood expanded, members sought out more opportunities to connect in-person. With each friendship gained, our collective confidence grew. The layers of friendship formed an incredible bond that now stretches world-wide. Rules were institutionalized to strengthen the organization. Not just a collection of pretty faces, our purpose has expanded to not only present a positive, female image but also to promote acceptance of transwomen through socialization.
Today, the Vanity Club remains true to its founding values of friendship and support, but has also evolved to remain relevant to all transwomen. We no longer just simply encourage each other, but rather empower ourselves and others to reach beyond our own comfort zones. Now, Vanity Club members have become increasingly visible in leadership roles and service to others is a signature characteristic of members. Our members represent all walks of life. They are successful professionals in technology, health care, art, finance, law enforcement, military, education, policy, science, skilled trades, agriculture, and numerous other professions.
"This organization exists for the purpose of providing a public forum whereby members can share a common bond. Its membership is comprised of transgendered persons that seek answers, fellowship and freedom of expression. It encourages self-discovery, sisterhood and perhaps most importantly, fun amongst its members."